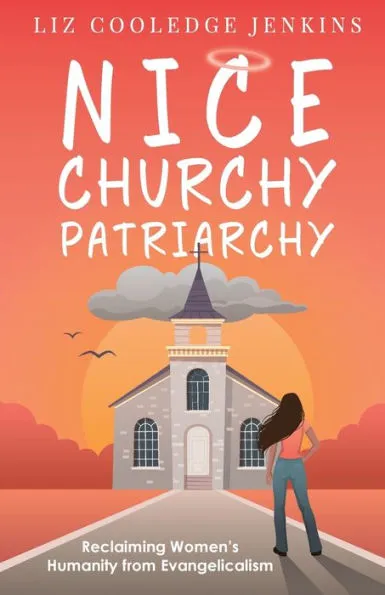 Back cover description:
Even in the warmest and most welcoming evangelical churches, patriarchy looms as an ever-present force, suppressing women's possibilities and debilitating whole communities. Well-intentioned churchgoers and church leaders have bought into deeply-entrenched male-dominated mindsets, power structures, and theologies that are not working—not for women, and really not for anyone.
Part memoir and part faith-based feminist manifesto, Nice Churchy Patriarchy takes an unflinching look at the ways misogyny's subtler forms impact every aspect of women's experiences in church. From leading a church college ministry, to attending seminary, to eventually developing the confidence to preach, Liz Cooledge Jenkins weaves together her own journey with reflections on biblical interpretation, church history, and intersectional feminism.
After confronting misogyny's faces head-on, Liz goes on to explore how we can build better faith communities together. For all who long to see women's gifts greeted in churches with gratitude rather than a suspicious side eye, Nice Churchy Patriarchy points the way.
Available for pre-order at:
Advance praise for Nice Churchy Patriarchy:
"The energy and optimism in this text will be a pure gift to her fellow Christians yearning for a more enlightened church."
–Kirkus Reviews
"A superbly brave and frank memoir by a woman who is deeply called to do Christian ministry yet is stymied by the barriers to women's full participation that are upheld by church leaders, ingrained in texts, and espoused by congregants. This compassionate and solutions-oriented approach is a must-read for non-traditional leaders in male-dominated religious spaces."
-Julie Lythcott-Haims, New York Times bestselling author of Real American: A Memoir
"Liz Cooledge Jenkins is a bold new voice calling for reform in the church. In Nice Churchy Patriarchy, she adeptly explores the impact of long-standing patriarchal norms and culture within faith communities, and skillfully makes the case for why change is urgently needed. Weaving together biblical and historical analysis with personal experiences and contemporary feminist literature, Jenkins leads the reader on an important journey of reflection and discovery. This book is a valuable resource for both individuals and church communities that are seeking opportunities for personal and community transformation."
–Kate H. Rademacher, author of Reclaiming Rest: The Promise of Sabbath, Solitude, and Stillness in a Restless World
"Liz Cooledge Jenkins uncovers the subtle ways in which patriarchy has spiritually injured our views of God and of ourselves. I especially appreciate that she grounds herself in her social location, while also recognizing the complexities of intersectionality for people of color and LGBTQ+ communities who also have distinct experiences under 'nice churchy patriarchy.' For people who have found themselves disenchanted with the Evangelical church, this book helps identify theology and practices that have been harmful and latent in church ministries as well as helpful encouragement for a path forward in the faith that embraces all people."
-Dr. Joyce del Rosario, Intercultural Studies PhD, Director of Multi-Ethnic Programs at Seattle Pacific University, and host of The Wedge podcast
"With razor-sharp attention to detail, Liz Cooledge Jenkins persistently pulls at the threads of patriarchy, those we can readily observe all around us and those that lurk beneath the surface of our traditions. She thoroughly considers and exposes their effects and implications and does not rest until we can see them for what they really are: harmful, unjust, and dehumanizing practices that are incompatible with the God whose image we all bear. But she does not leave us bereft; generously sharing both personal experiences and scholarly insights, Cooledge Jenkins offers us hope that, together, we might yet take these tired threads and weave something new."
-Cameron Bellm, author of A Consoling Embrace: Prayers for a Time of Pandemic
"Nice Churchy Patriarchy by Liz Cooledge Jenkins is such a good read. She has a writing style that is easy and inviting, gracious and challenging for some parts of the Church. She narrates her own personal journey with humor and humility, and without making it feel like her ego is at the center. It is evident that she has worked hard at bringing into her writing the voices and works of other writers—other women (and men too!), people of color—that hold her own voice accountable. Perhaps what I appreciate about this work the most is that it is clearly written with the hope of making the Church a better and more full expression of the image of God."
-Rev. Lina Thompson, Pastor, Lake Burien Presbyterian Church
"In Nice Churchy Patriarchy, Liz Cooledge Jenkins shows that patriarchal systems are neither nice nor particularly Christian, not when they diminish and distort the Imago Dei in all of God's children. Jenkins uses her considerable experience attending and working in evangelical churches as a narrative frame for her exploration of Christian patriarchy, writing in compelling detail about how women's gifts, their voices, and their humanity is often diminished in the misguided name of 'God's will.' More importantly, Jenkins provides a way forward, inviting us to reclaim an agency that already belongs to us, simply because we already belong to God."
-Melanie Springer Mock, Professor of English at George Fox University and author of Worthy: Finding Yourself in a World Expecting Someone Else and Finding Our Way Forward: When the Children We Love Become Adults
"This timely book is both for women on the receiving end of patriarchal hubris and for guys like me who unwittingly assume the upper hand. While we all condemn the severe damage inflicted by men on women in cases of abuse (sexual abuse, physical abuse, psychological abuse, and spiritual abuse), the more subtle and nuanced forms of abuse are injurious, too, especially in the church…In a candid recounting, Liz takes us from her personal encounters with 'churchy' patriarchy on into her deep dive into academia where she could explore her questions…The book is a clarion call for change: for the church to become the inclusive body Jesus envisioned and for guys like me to acknowledge the problem, own the past, and become advocates of admission and empowerment for all. It is also an encouragement for women to gain full access to positions of leadership and to reclaim the agency that is rightfully theirs."
-Ken Kemp, M.Div. (he/him); retired businessman, former pastor, and host of the Beached White Male podcast
Podcast guest appearances:
Compass Podcast (United Methodist Church)